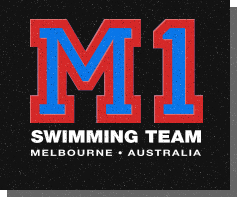 M1 Swimming Club, Melbourne Australia

Membership

Swim Meets

Our Club

News & Contact
Getting Started
Here are a few steps to follow if you are joining the club for the first time.
Please contact the club if you have any questions.
1. Join M1
To become a member of M1, click here.
Note: Swimmers must be enrolled in a squad program at one of our training centres in order to join M1
2. Purchase M1 Club uniform
Swimmers are encouraged to wear club uniform at swim meets. Click here for information on uniform.
3. Keep up to date
Once you have joined the club you will receive news updates via email, usually sent on a Thursday or Friday during school terms.
The updates mainly consist of information about which swim meets to enter.
(The club will send news updates to the email address used when registering in Swim Central)
4. Enter Swim Meets (competitive members only)
Start entering swim meets. For more on swim meets, click here.
---