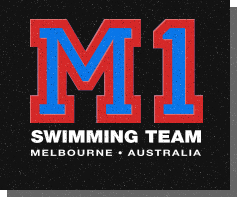 M1 Swimming Club, Melbourne Australia

Membership

Swim Meets

Our Club

News & Contact
Getting Started
Here are a few steps to follow if you are joining the club for the first time.
1. Join M1
To become a member of M1, click here.
Note: Swimmers must be enrolled in a squad programs at one of our training centres in order to join M1

2. Purchase M1 club uniform
Click here for information on uniform.
3. Connect with M1
4. Enter Swim Meets
Once your membership has been activated (normally within 48 hours of joining/renewing), you can start entering swim meets. For more on swim meets, click here.
5. Check results
Results from most swim meets are uploaded to the national database, usually within a week of the meet. Click here for the results page.
---