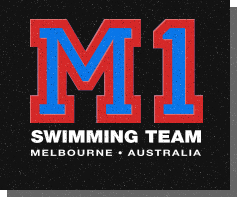 M1 Swimming Club, Melbourne Australia

Membership

Swim Meets

Our Club

News & Contact
M1 Galas
The club conducts swim meets which we call 'M1 Galas'. The galas provide an opportunity for members of all ages and abilities to practice racing in a supportive environment.
Our galas are run as qualifying meets, so swimmers times will be added to Swimming Australia's National Database. Click here for gala results and the national database.

M1 holds three galas each season, as outlined below.
1. M1 Long Course Gala (invitational)
Held in October/November
Another club is invited to attend and compete
Long course pool (usually Aquanation, Ringwood)
50/100/200m events available
Swimmers have opportunity to obtain Junior Excellence and/or State qualifying times
Special 'M100' event - opportunity for swimmers to win cash!

2. M1 Club Championship Gala
Held in March
Swimmers compete against other swimmers in their age group
Medals are awarded to first three place-getters in each event
Long course pool (usually Oakleigh Recreation Centre)
Awards given for any club records broken at the gala
Swimmers have opportunity to obtain Junior Excellence and/or State qualifying times

3. M1 Short Course Gala
Held in May/June
Open to M1 members and non-members from Tateswim and Academy of Swimming
Short course pool (usually Monash Aquatic and Recreation Centre)
Junior swimmers (aged 11 & under) who attended all 3 galas this season will receive an award
Swimmers have opportunity to obtain Junior Excellence and/or State qualifying times
---